Hearing Products
If a hearing aid or device is necessary for your hearing journey, our experts will guide you to the best solution. We offer the latest hearing technology and products that address a wide variety of hearing loss concerns, helping you reconnect to the world around you.
Hearing Technology
Modern Solutions For All Types of Hearing Loss
Thanks to advances in technology, hearing products are designed to be more compatible with our lives than ever before. In addition to hearing aids, there are a number of products that make living and communicating with hearing loss easier to manage, so you never miss a beat.
Hearing aids can be worn in the ear or behind the ear. The price of hearing aids is determined more by the functions they offer and less by the size of the device. Smaller hearing aids use smaller batteries that need to be changed more frequently.
More on Hearing Aid Styles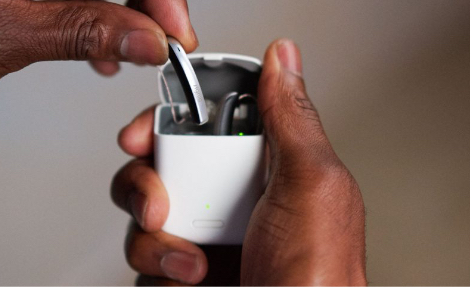 Hearing Aid Manufacturers
Hearing Products Created by the Best in the Industry
When it comes to hearing loss, you need a device you can rely on to perform its best. That's why we carry products from manufacturers with a proven track record of exceptional quality. No matter your budget, lifestyle or type of hearing loss, we have a product to meet your needs.
Hearing Protection
Make Protection a Priority
Protecting your ears from noise damage is essential to healthy hearing. We carry a wide variety of options equipped with the latest features and customizations, so you can find the best fit for your lifestyle.
Hearing protection is especially important for musicians, but so is being able to clearly hear the music being played. Luckily, there are earplugs and monitors specifically designed to allow musicians to listen for the correct notes, pitches and keys.
More on Earplugs and Monitors for Musicians